Cloudways Review 2021 - Is this the fastest web hosting?
Looking for a high performance cloud hosting yet affordable managed WordPress? Cloudways delivers maximum speed and security easy to set up for your WordPress website. Read our Cloudways review and find out if you should try.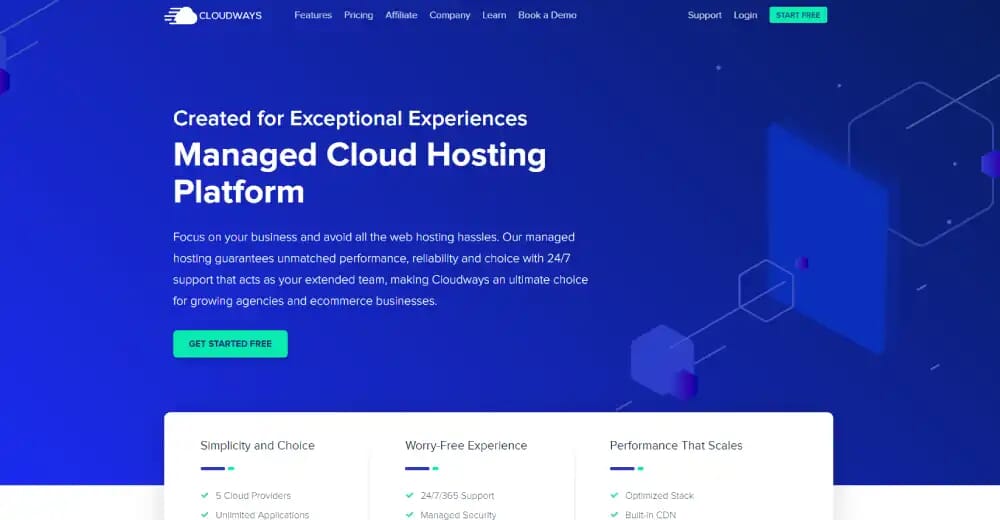 Cloudways is one of the most balanced hosting companies between high performance and affordability when it comes to cloud-based managed Wordpress hosting, but not focused on newbies. In this Cloudways Review (2021) we'll show you the main features of high-performance cloud hosting.
With Cloudways, you will not suffer with web speed on your Wordpress managed hosting.
Cloudways offers you hosting resources at scale as your website grows.
Their services include a good feature set for configuring your cloud servers and their platform is optimized for speed, security and performance, although it does not offer domain registration or email.
You can choose from 5 best cloud platforms, all in one place, including Amazon Web Services and Google Cloud Platform:
Digital Ocean
Vultr
Google Compute Engine
Amazon Web Services
Linode
If you are not sure yet, you can sign up for the 3-day free trial to test their platform. Yes, it could be a bit more :-(.
You can start with Cloudways cheapest managed WordPress hosting plan for $10/per month.
Pros and Cons of Cloudways
PROS
High performance for your web site
Easy configuration and user-friendly control panel
Besides Wordpress, there are many other content management systems (CMS) such as Magento, Joomla, Moodle or Drupal
Pay-as-you-go feature
Customer support really fast
No limit on how many WordPress sites you can install
Automatic site backups with easy set up

Visit Cloudways
About cloudways
Cloudways was founded in 2009 by Uzair Gadit, Pere Hospital, and Aaqib Gadit on the island of Malta (Europe).
The have office in Spain, Dubai and their 30+ staff helped 8,000 users from 50+ different countries.
Cloudways web hosting is one of the few cloud-based managed Wordpress companies with a great balance between great performance and affordability.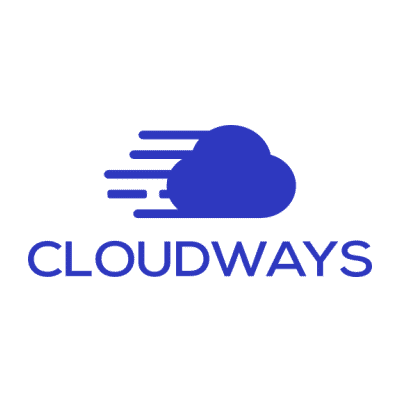 52 Springvale Pope Pius XII St. Mosta, Mosta, MST2653, Malta
Telephone: +44 330 001 0338
Overview of Cloudways Web Hosting
One of the reference hostings when it comes to managed cloud-hosting services for wordpress sites.
While most offer shared hosting for wordpress or vps, cloudways focus exclusively on cloud-hosting.
Cloud Managed Wordpress Hosting
Cloudways offers a wide variety of managed cloud hosting services for WordPress sites.
Cloud hosting means that your content will be replicated in many data centers around the world.
As a result, when your main server goes down, a copy of your website content is served from another server available to achieve a 99.99% uptime.
Tha's why we will get high performance and reliability.
Differences between cloud hosting and traditional hosting
Difference between Cloudways WordPress hosting and traditional hosting:
Cloud hosting means your site is allocated on multiple servers, compared to traditional hosting where your site is stored on one server and with a back-up
With cloud servers you can scale very quickly; this is perfect in case of work or traffic peaks
Being on multiple servers, it can be easily moved in case of errors
Cloud hosting increase uptime because one of the other servers in the network can take over if anything goes wrong
Generally faster than traditional hosting, the server can detect the location of your clients and send content from the closest server.
Most cloud hosts use SSDs drives to increase site performance. Solid-state drives are faster than traditional drives.
Cloudways uses a wide range of security methods to process your WordPress site
Pay-as-you-go feature allows you to increase control over your bill
Features of Cloudways Hosting
There are several configurations available, although the most basic is 10Gb of RAM, 25Gb of storage, 1 TB bandwidth and 1 Core Processor
Here's how Cloudways provides your WordPress site fast and secure and easy to maintain:
Cloudways will handle your site migration with 1-click if you need to change your hosts
Cloudways CDN improves server speed mainly for e-commerce.
There is an automatic repair function that solves any problems and reduces the risk of your site crashing.
Being WordPress the most popular content management system (CMS) in the world, makes it a target for hackers. Cloudways protect you from bad boys using a dedicated firewall.
With "Let's Encrypt" SSL certificate integrated, ensures the communication between your site and the clients in a secure way.
Two-factor authentication adds an additional layer of security.
Install and deploy all the applications on your server in minutes with one click
Cloudways can help you with a 24/7 expert support
Your server up & running very easy
Cloudways lets you configure the specifications of your desired server directly from their hosting control panel.
Choose from 5 Top Cloud Providers
Before you can start to setup your server, you have to choose your preferred cloud provider on the Cloudways console.
There are multiple cloud providers to choose from, which means that another company offers its infrastructure as a service to Cloudways.
In your case, access to data centers and cloud-based servers to host websites.
Cloudways works with these cloud providers:
Digital Ocean
Amazon Web Services
Google Compute Engine
Linode
Vultr
Server Configuring fool-proof
Once you have selected a cloud provider, you can configure your server.
A slider on the dashboard lets you select the number of page views you expect to receive each month.
Cloudways uses this information to recommend a server size that would be ideal for your specific hosting needs.
As you grow you can scale your server.
Also, you can configure the server specifications manually by specifying:
bandwidth,
central processors,
RAM and
storage you need.
Finally, Cloudways will ask you to select your server location from its wide range.
Installing Wordpress
After configuring the cloud server, you can install WordPress in 1-click from the "application management" tab.
There are three WordPress installations to choose from:
Standard WordPress hosting with built-in caching tools.
WordPress Multi-Site.
WordPress with WooCommerce hosting.
All installations come with the W3 Total Cache Plugin installed and configured to increase site speed and performance.
What can you do with Click&Go, your server console
In the Cloudways console, you'll find many other settings under the Server Management tab. Scrolling down brings up more features that you can manage as you like.
The following are many server features that you will get when using Cloudways to host a managed WordPress site:
This security feature write a log of white list IP addresses that you use to get access to your server
Cloudways lets you set up automatic backups of your cloud server images. You can configure the server back up every day, 2 days, 3 days and so on up to a week. You can also back up your server at any time manually with 1-click.
One of the most stunning features is server monitoring that Cloudways offers with their cloud hosting solutions. You will see a graph that will help you monitor the load on your cloud server. These include incoming traffic, idle CPU, and reads per second.
EASILY HANDLE TRAFFIC SURGES
As you grow, you can end up getting a lot of traffic and with vertical scaling, you can adjust allocated server resources at any time with a few clicks. This is a brilliant feature when experiencing a traffic surge.
If you're scaling for just a short period Cloudways offers a "Pay as you go" system so that you don't have to pay for server resources you won't need later on.
As you grow, it is common to have traffic spikes and not be able to handle it with current resources. With vertical scaling, you can increase your allocated server resources at any time with just a few clicks. This is a brilliant feature when experiencing increased traffic.
If it happens in a short time, Cloudways offers a "Pay as you go" system so that you do not have to pay later for server resources that you do not need.
Besides, Cloudways provides many other tools under the "Manage Services" option like:
MySQL,
Apache,
Cache memory
One of the main features is the "Migrator Tools" option. Cloudways offers a WordPress Migrator tool to help you move your existing WordPress site to their cloud hosting platform.
Using the "Application Add-on" section, you can install many add-ons for DNS management, transactional email services, and more.
Additionaly, the Cloudways console offers extra tools such as:
backup restoration,
SSL certificate installation,
GIT integration
...
Customer Service
Cloudways has a 24/7/365 support system, but additional features:
live chat at any time
talk with humans through phone or skype (schedule a meeting)
proactive investigation,
private Slack channel & phone support, and
customization support will cost you extra - the Advanced plan starts at $100/mo while the Premium plan starts at $500/mo.
If you still have some troubles, many questions are covered in their FAQ, while almost everything you could think of has a dedicated article in their Knowledgebase. The latter is especially friendly towards beginners, as it has a collapsible section with explanations of basic technical terms used throughout the article.
There is also a user community forum with employees answering questions, but it is not very active.
E-Commerce and Security
Through Click&Go console you can set the application level security.
Supported Ecommerce Platforms
Cloudways Hosting supports a number of popular e-commerce platforms:
Cloudways Competitors / Alternative
[Scala Hosting(/go/scala/)]: Managed Cloud VPS Hosting. Scala Pricing: Scala Hosting managed VPS starts from $9.95/mo
A2Hosting: A2 Hosting unmanaged VPS. Plans offers single CPU core along with 20 GB SSD storage, 2 TB of traffic and 512 MB of memory. A2 Hosting VPS Pricing: Starting from $5/mo
WP Engine: WP Engine cloud hosting provider. WP Engine Pricing: WP Engine's Startup plan starts from $25/mo (discounted price).
Cloudways Pricing
Cloudways offers a quality platform at a price above some of its competitors.
Cloudways is a platform as a service (PaaS) and this comes with some notable disadvantages in terms of higher fees.
Starting from most basic configuration plan:
1 CPU
1GB Memory
25GB Storage
1TB bandwidth
Cost:
Cloudways price (for Digital Ocean): $10 per month.
Summary
Cloudways offers good value for money and high performance in cloud managed Wordpress hosting. There are many 1-click install apps you can choose from and the ability to scale as your website grows.
If you're still unsure, you can sign up for the 3-day free trial to test their platform. Yes, it could be a few more days.
Cloudways Frequently Asked Questions